The start and the finish are crucial to have a successful maze. The finish can have certain requirements, like destroying all icemen, finding all diamonds, or both. Mazes do not require a finish line, but it is extremely helpful when there is one. Many players spend several minute going through a maze only to discover the creator put no finish marker. Though, if the maze does not have a finish line, the menu at the start of the game will display a message saying NOT WINNABLE. CONTACT THE AUTHOR.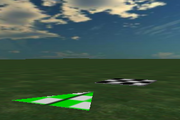 Ad blocker interference detected!
Wikia is a free-to-use site that makes money from advertising. We have a modified experience for viewers using ad blockers

Wikia is not accessible if you've made further modifications. Remove the custom ad blocker rule(s) and the page will load as expected.