Pokemvp is respected member on ChallengeYou. He is not a popular as other players, but is still fairly known. He has won a couple of contests and has gotten CY's choice.
He can also be a comedian, as well as being obnoxious and annoying, still keeping a good sense of humor.
Joined: 4/7/08
Most played: Pillar Jumper - 561
Highest rated: CY Grand Theatre 5/5
Subscribers: 16
Points: 1153
Placement on Top Members list: 12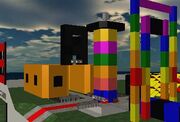 Ad blocker interference detected!
Wikia is a free-to-use site that makes money from advertising. We have a modified experience for viewers using ad blockers

Wikia is not accessible if you've made further modifications. Remove the custom ad blocker rule(s) and the page will load as expected.