On ChallengeYou, not only can you play by yourself, but you can also play in Multiplayer. Multiplayer means that you can play online with other members in any game on ChallengeYou. Multiplayer, or "MP" as it's called, was beta tested in Autumn 2008.
The testing started out with avaters as red sticks in the editor earlier.
Omar, which is the webmaster's friend in real life, was used as a character soon after development. The final stage of testing multiplayer was used with robots as characters.
The current avatars are human. The character is slightly different between the two genders, only by the length and color of hair.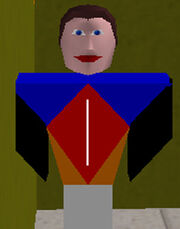 Ad blocker interference detected!
Wikia is a free-to-use site that makes money from advertising. We have a modified experience for viewers using ad blockers

Wikia is not accessible if you've made further modifications. Remove the custom ad blocker rule(s) and the page will load as expected.