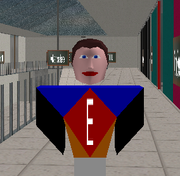 EOTW666 was a user who registered on January 24, 2009. He was known as a kind and helpful player in the ChallengeYou community. None of his games have a huge amount of success, but many of them are fun to play. His most popular game called "McDonalds" has about 100 plays.
Joined: 1/24/09
Most played: McDonalds - 101
Highest rated: Tornado - 5/5
Subscribers: 4
Points: 683
Placement on Top Members list: 25
Ad blocker interference detected!
Wikia is a free-to-use site that makes money from advertising. We have a modified experience for viewers using ad blockers

Wikia is not accessible if you've made further modifications. Remove the custom ad blocker rule(s) and the page will load as expected.