A beta tester is a member of the ChallengeYou community that helps the website creator, ChallengeYou, test out new site features.
The beta tester community was started in Summer 2008 to test out the multiplayer system. Once the system was launched, ChallengeYou continued the beta tester community to help him out around the website.
There are a few beta testers, including Brandon, Haakson, Pew446, [Wes34], and Pacman94.
Beta Testers have an exclusive item to their avatar. Only beta testers have a red mask around their eyes.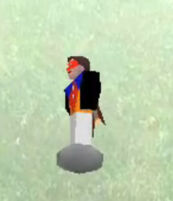 List of Beta Testers
Edit